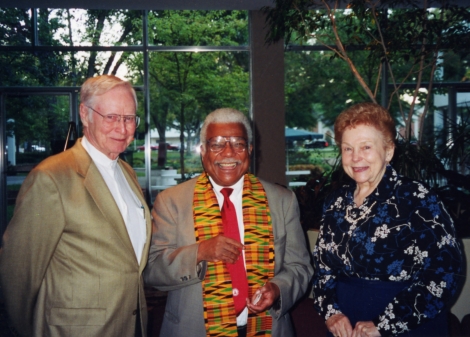 Dr. Darl Snyder first became affiliated with The University of Georgia in July 1969 as a Program Specialist at the Rural Development Center (RDC) in Tifton, GA. He became director in July 1972, and remained at RDC until 1974.
In September 1975, Dr. Snyder was appointed Director of International Programs in Agriculture on campus at UGA in Athens. In 1977, he was appointed as the University's Director of International Development. He became Director of the Office of International Development at UGA in 1989. With credit for 27 years of service with UGA, he retired in June 1992. Accomplishments during his years at UGA include:
Initiating the development of a proposal that led USAID to award UGA a contract to implement a worldwide Collaborative Research Support Program on peanuts (Peanut CRSP) in 1980. To date, this program has brought UGA more than $35 million.
Playing an instrumental role in having UGA selected to team with Tuskegee University in the implementation of a USAID-funded agricultural human resource development (AgHRD) project in Upper Volta (now Burkina Faso); then serving as Technical Director.

Establishing an agricultural research station at the University of Ouagadougou in Burkina Faso.
Bringing 20 students from the University of Ouagadougou to the USA for advanced degrees and implementation of new courses at the University of Ouagadougou.

Encouraging and supporting faculty in the development of an African Studies Program at UGA, which was approved and implemented in 1987. The Program was elevated to Institute status in 2001.
Since his retirement, Dr. Snyder and his wife, Florence, have remained actively involved with the African Studies Institute and various international offices.
The lecture series was established in 1992 in honor of Dr. Darl Snyder for his dedication, research, and service learning programs in Africa. The event is an annual opportunity to bring accomplished scholars in African Studies to The University of Georgia campus.
The lecture series has featured distinguished Africanists who lectured on prevalent topics regarding Africa. These include: In 1992: Dr. Ali A. Mazrui, in 1993: Dr. T.R. Odhiambo, in 1994: Dr. Helen Suzman, in 1995: Dr. Wole Soyinka, in 1996: Dr. Jan Vansina, in 1997: Dr. Ngozi Okonjo-Iweala, in 1998: Dr. Akinwumi Isola, Mr. Yulisa Amadu Maddy, Dr. Tejumola Olaniyan; in 1999: Dr. Heetan Kalan, in 2000: Dr. Felimena Steady, in 2001: Dr. Herschelle Challenore, in 2002: Dr. Louis W. Sullivan, in 2003: Ms. Charlayne Hunter-Gault, in 2004: Dr. Kate Winskell, in 2005: Ambassador Gertrude Mongella, in 2006: Professor Salikoko S. Mufwene, in 2007: Dr. Donald R. Hopkins, in 2008: Emmanuel Fiadzo, in 2009: Joanne B. Eicher, in 2010: Salibo Somé, in 2011: Nwando Achebe, and in 2012: Art Dunning, vice chancellor for international programs and outreach at the University of Alabama System